Providing Australian businesses traditional and digital marketing solutions since 2009.

JAMES
Principal Consultant
James is Unpuzzle's principal consultant and has been working in marketing for almost 20 years. James has a a variety of marketing experience that includes manufacturing, retail, building, insurance, IT and finance. James manages our data delivery team, our designers, digital strategist and Analysts.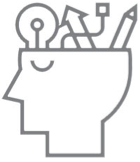 ROCHELLE
Designer
Rochelle is Unpuzzle's in house graphic designer and partner of the business. Rochelle has been working in design for over 10 years and has worked on household name brands such as Panadol, Colgate, Aldi and more.

ANGELICA
Data Analyst
Angelica is Unpuzzle's inhouse Data Analyst and is the driving force behind our technology and automation systems. With global connections in technology, Angelica brings a wealth of experience and opportunity to our clients.

BEANS
No Known Talent
Beans joined Unpuzzle in 2017 and is often heard barking at clients on the phone for no apparent reason. As our resident office dog, he provides no protection, no loyalty and no real benefit other than the occasional excuse to leave the building and enjoy our local scenery.